Walking Tours in India
Whats is a Walking Tour?
Wikipedia says "
A
walking tour
is a tour of a historical or cultural site undertaken on foot, frequently in an urban setting.
" To put it in plain English, walking tours are nothing but exploring the city by walk. Walking Tours makes us to feel more local than any guided tour. Usually w
alking tours are day trips or sight seeing holidays
on which the participants primarily travel on foot.
(Soure: goindia.co.in)
Famous Tourist spots in Tamilnadu!
Introduction
Tamilnadu -
Archaeological evidence points to this area being one of the longest continuous habitations in the Indian peninsula.
A Neolithic stone
celt
(a hand-held axe) with the
Indus script
on it was discovered at Sembian-Kandiyur near
Mayiladuthurai
in Tamil Nadu.
Three dynasties, namely the
Chera
,
Chola
and
Pandya
, ruled the area of present-day Tamil Nadu and
Kerala
.
Besides these three dynasties, the Sangam era
Tamilakam
(Tamil homeland) was also divided into various provinces named 'nadu', meaning 'country'.
Tourist
Spots:
Chennai (Madras) — the capital of Tamil Nadu. One of India's four greatest cities.
Madurai — Athens of the East, a place of great historical and cultural importance, and the oldest city in Tamil Nadu.
Tiruchirappalli — famous for temples like Malaikottai, Srirangam, Thiruvanai Kovil, Samaya puram, Vekkali amman, Vayalore
Kanniyakumari — the southern most tip of the Indian mainland.
Mamallapuram — ancient temples and modern stone carvers, outstanding examples of Dravidian art and architecture
Thanjavur / Kumbakonam— fine old architecture and exquisite handicrafts
Hill stations - Ooty, Kodaikanal , Yercaud and Valparai
Kanchipuram-temples and sarees
Rameswaram Ramanathaswamy Temple
Thirumayam - 7th century archaeological wonder. Oldest vishnu temple.
(Soure:
Walking Tours in Tamilnadu:
(Source: tripadvisor.com)
Since most of the tourist attractions here are temples, is there any walking tours in Tamilnadu? YES
There are free and paid walking tours in different selected cities. They are as follows:
Chennai (Madras)
Storytrails
Fee: (contact for price)
Phone Number: +919940040215
Website: http://www.storytrails.in/
Blaffer Food Tours
Fee: (contact for price)
Phone Number: +91
8056202141
Website: http://www.blaffer.in/
(Source: wikipedia)
Madurai
Madurai Inhabitants
Fee: (contact for price)
Phone Number: +91
9976416455
Website: http:///www.maduraiinhabitants.com/
Vanakkam Madurai
Fee: (contact for price)
Phone Number: +91
77080 55935
Website: http://www.vanakkammadurai.com/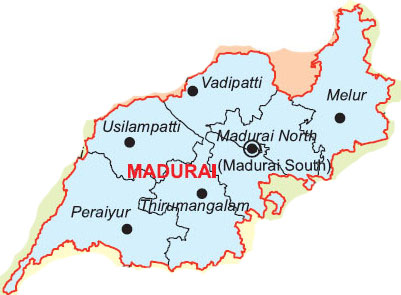 (Soure: onefivenine)
Thanjavur (Tanjore)
WalkWithUs
Fee: FREE (Only free tour in Tamilnadu, but on certain days. Mail them to know more.)
Phone Number: +919892427312
E-Mail: contact@walkwithus.in
Website: http://www.walkwithus.in/
(Source: twad)
If you have better suggestions please let me know. Will keep you posted about more tours companies.